Is it really possible to get your body back in 10 weeks, without crunching calories or living off the 'shake in a packet' that promises you the world?
Too right it is possible! Getting your body back in 10 weeks  isn't as difficult as you might think.
Sure, there will be a little sweat and discomfort.. There will be a little re-structuring of things in your world and there's a good chance you'll need to replace your entire wardrobe. There never seems to be too many objections to the later!
Kym recently dropped 7kg, two dress sizes and discovered a new love for exercise in 10 weeks!
The Shake UP Summer 10 week Challenge was Kym's calling. Like all of us,Kym is busy! Busy raising 2 young boys and busy being the executive assistant at the one of the Gold Coast's best Accounting firms! Kym had an acute desire for change and was eager to get an understanding of which foods were slowing her fat loss efforts down.
We love success stories like Kym's because this kind of success serves as a wonderful reminder that you can turn your life around in 10 weeks!
5 Tips for getting your body back in 10 weeks! 
1. Make this your priority:
If this is truly important to you, what's necessary to make this happen.Tell your family that you are changing your ways, ask your friends for their support, block out time in your calendar for training and food shopping.
2. Take a picture – clothes off:
Getting your body back begins with admitting you are unhappy with how you look naked. This is a very confronting place to begin but it will serve as your greatest motivator when the going gets tough!
3. Eat more food:
Kym's day regularly consisted of eating 2 bananas and hoping for fat loss! The truth is that most people under eat, causing a metabolic slowdown that makes fat loss tough. Kym believe that around the week 5 mark her appetite came back and at this point she began seeing positive shifts in her body shape. If you can lose weight eating more food, there is a great chance that you will make it last!
4. Get your sweat on:
When it comes to fat loss, our bodies respond very well to short, intense bouts of activity. It takes a bit of getting used to but a few intense 20 minute sessions a week for 4 weeks and you will begin to adapt and enjoy the process. At week 1, Kym was doing it pretty tough. She persevered and now destroys our workouts like an animal!
5.Find some people to do it with:
Getting your body back in 10 weeks can't be like a school project! It needs to be fun, surrounded by good people and plenty of laughter!  Kym credits a large part of her success to the great group of friends that shared her challenge experience with her.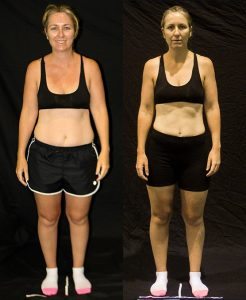 If hearing Kym's story has inspired you to take your body back, we have some good news for you!
10 weeks that we guarantee will get you your body back…If you are ready for it?
A huge congrats to Kym Laracy for finding the courage to step outside your comfort zone and take your body, health and vitality back. You are an inspiration girl! We look forward to seeing you nail 5km in under 27 minutes Champion!