From forgetting your health to reclaiming it…
It's an amazing experience becoming a Dad for the first time.
For those lucky enough to have a little bundle of joy, you know that it is a manic mix of emotions.
You're sleeping less, you're spending more, you're changing nappies, and discussing the colour and consistency of poo with your partner.
This little blessing is – at the same time as driving you mad – the most beautiful, precious, amazing thing you have ever experienced!
It's no wonder you forget about your health.
Who's got the time or the desire to get up and have a workout at 6am when you've spent the night rocking bubs to sleep, putting them down ever so gently, and crawling backwards out of the room praying they don't wake to the sound of your desperation!!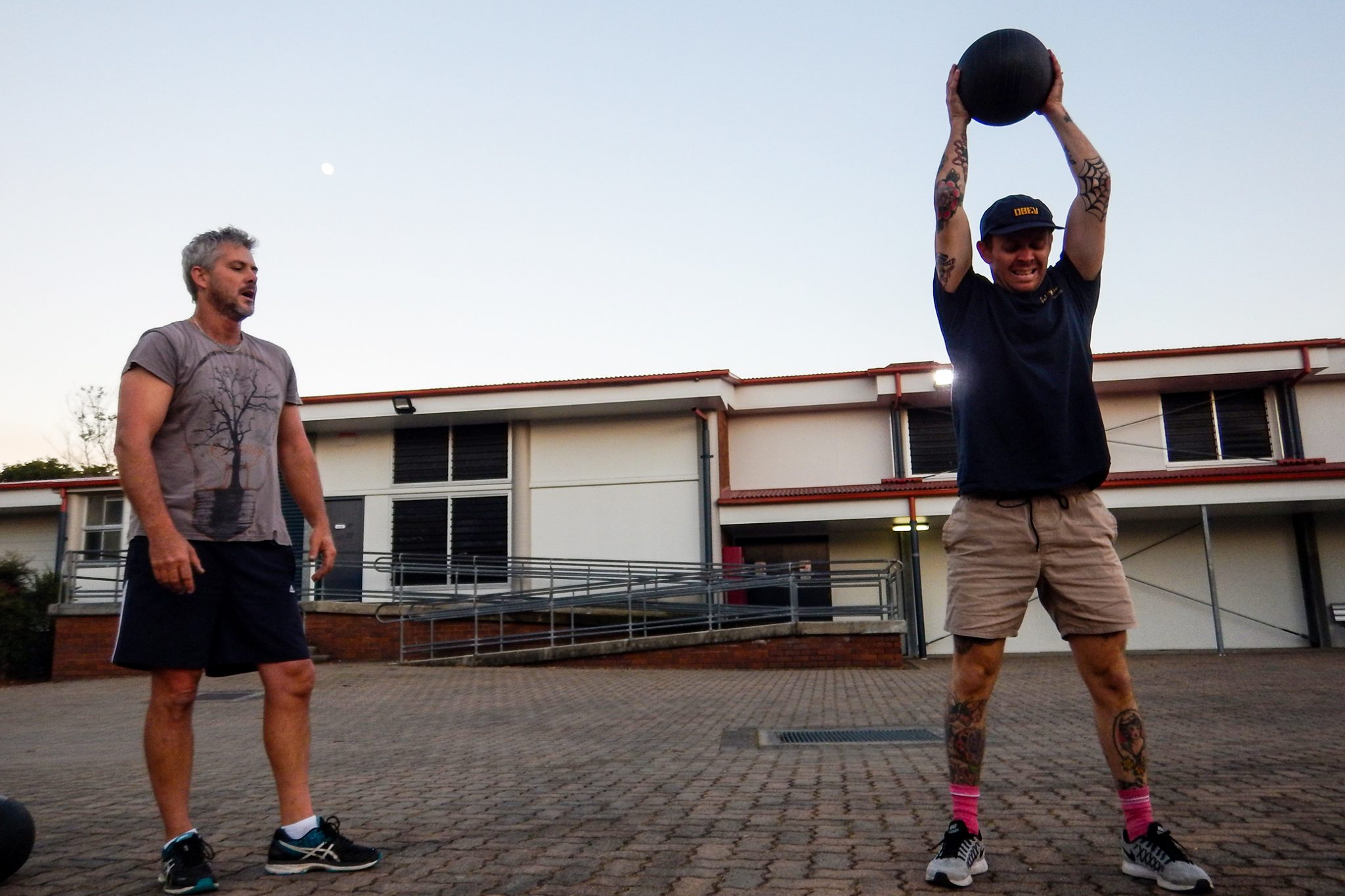 So our priorities change.
We exercise less – if at all.
We eat whatever and whenever we can.
We get a little fatter.
We get a little lazier.
We get a little too comfortable.
The Calm After the Storm
This calm happens at different times for everyone. It could be at 6 months, 12 month, 3 years!!
You're still not even close to in control, but it feels like you may just pull through.
Bubs is sleeping better, you can change a nappy while watching the news, there are even moments when it isn't just about your little bundle of joy.
Now we can see a little more clearly.
So our priorities change again! – If you're lucky.
We realise that this parenting sh#t is hard!
If I'm going to be the best dad I can be, I need to be fighting fit!
I need to be able to keep up with this little ball of energy and be fit enough to enjoy it.
It's on!
I don't want to be outrun by a 3 year old, or get stuck crawling through the entrance to the Princess Castle with my daughter.
I want to be the best I can be for my kids. For my family. For me.
This months, Shaker of the Month, Dean Butt has gone through this cycle. Dean has recently joined his lovely wife Ashley working on their Jewellery Business and together they are looking after their beautiful 1 year old daughter Isabelle.
Dean's work these days is less physical than he was used to, and his priorities changed.
So did his body and his energy levels. Dean realised that he was lacking energy and rocking "The Dad Bod" after spending a year focussed on his daughter and his business.
And then it all changed again…
That shift happened about 5 months ago for Dean. That realisation that to be the best dad you can be, you need to feel good and be energised.
We always say at The Shake UP, that those who have the strongest 'WHY' – the strongest reason to change always have the best attitude and hence the best chance for success.
Dean's WHY was to be a better dad to Isabelle, and you can see in his commitment and determination that it is super important to him. After only a few months with The Shake UP, Dean has changed his body shape, increased his energy levels, and is primed to be the hands-on, active dad that he dreamt of being.
Hat's off to you Deano! It's always a pleasure to have you in a session mate. Your effort and enthusiasm is infectious!
Congratulations on a well deserved Shaker of the Month!!
Dean scores a 30 minute massage from our extremely gifted friends at No More Niggles, as well as breakfast and coffee for two at the amazing Euphoria Espresso Cafe.
Thank you so much to our sponsors for your continued support – we are forever grateful : )
To hear more about Dean, check out our interview below…
Tell us a little bit about yourself Dean
I turned 30 recently. I have a lovely wife Ashley, we've been married nearly 4 years, and a one year old daughter Isabelle.
About a year ago, I started working from home/ became a full time father – which is cool, and I noticed in myself that I needed to make a change physically because I wasn't doing physical work anymore. I noticed I was getting a little bit cuddly, started to get a bit of the 'dad-bod' going on and I heard about The Shake Up, and decided to join up about 4 months ago. It took me a little while to take the first step, but when I did I was glad.
You've been a part of The Shake UP Community for 4 months, what was it that brought you here?
Just needing to making a change for myself physically. We've always had a healthy lifestyle, but once we took away the physical work, you really do notice it – especially when you've been active your whole life.
I just really wanted to be active for my child, and with Isabell growing up, I just want to be able to hang out with her and stay active.
To make the progress you've seen, you have to push yourself pretty hard during the workouts, what is it that gets you through a workout?
You're here for a reason – there's no point doing a half-assed effort. You've gotten out of bed at 5am, you may as well make that extra effort to actually see some results. If you don't challenge yourself, you won't see the progress. Just pushing yourself and the mental challenge.
So what is it that you like about The Shake UP? What keeps you coming back?
I Like the idea that it is over and done with pretty quickly. Because we are quite busy with work life and family life, you can't afford to go to the gym for an hour or more, so the 25 minute sessions are great. And I like the group side of it – good crew, good friends, I've met some cool people – and a good trainer obviously.
Can you tell us how The Shake UP has impacted your everyday life?
It's good. It gives me a good start to my day. Funnily enough, you get more energy from starting your day with exercise. Once you get home and refuel you're ready to take on the world. It's definitely made me more active in other aspects of life – I find myself going on longer walks now, and I'm always keen to do something rather than just feeling lazy. Yeah, feeling good.
Which exercise is your least favourite?
Definitely clean and press…and squats I'm not a big fan of. I used to hate running, but now I'm getting into it. It feels good running now. I used to get a lot of pain in my knees, but I guess because I've built up to it, there's no pain at all.