Jump onto social media at any given time and you will find yourself on an emotional roller coaster that pumps you up to believe that you can have the body of your dreams in no time at all and with very little effort!
Sounds great right… A Four week cleanse that will wash away a lifetime of poor eating choices!
When Norelle Mckibbin joined our Summer Challenge earlier this year, one of the 1st things she heard our coaches say was this…"The change that you desire may take 18 months or more, depending on your current metabolic state!".
8 months after hearing these brutally honest words, Norelle continues to lose weight and improve her body shape and her quality of life!
Our July Shaker of the month is on a mission and we recently caught up with her to find out how it's going:
G'day Norelle, Tell us a bit about yourself?
Ok.. I am a full time mum of 3 beautiful kids, AJ (9) Mia (6)  and Lachie (4.5). Life is great and pretty busy in our household.
What have you achieved since the summer Challenge?
Over the past 8-9 months I have lost 16kg which I am pretty proud of. 18 months ago I had a shoulder reconstruction and throughout that period I put on 35kg! I am getting there! The Challenge was tough but it definitely help me get my eating habits under control and I am determined to make it last!
How has this improved your quality of life?
It's the little things you know…  We went on holidays last year and  the plane seat was a little tight. We recently got back from Bali and this trip was so much more comfortable! For me it's not so much about what I look like, I just want to be comfortable in my clothing and be able to wear the things that I want to wear!
How long have you been training here?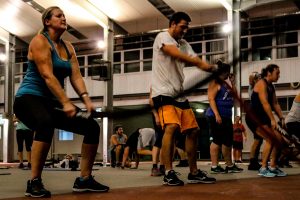 Um almost 12 months I guess. Andy and I started training here and then got straight onto the summer Challenge. We are loving it!
What do you love most about The Shake UP?
I love that it's quick, it's close to home and that the kids can come along and be active here while we train! The kids are usually as sweaty as we are! We get them home, fed, showered and in bed and it doesn't really disrupt our night!
What's toughest in a Shake UP session for you?
Probably push ups or walk out push ups. I am improving these though!
What a Legend! Norelle understands that this is a process that will lead to success because she has changed her lifestyle! For all of her hard work, Norelle has scored a session with Alex Yates from Anchor Health Clinic. Alex is a women's health warrior! If you are struggling with your hormones, feeling bloated, tired, suffering from headaches, mood swings and sugar cravings, Alex is here to help you! Get in touch with Alex on 0422 635 649