Mark Connell is like most 39 year old Aussie blokes. He works hard, loves a beer and has struggled with his body shape as he chalks up the years, moving ever closer to the big Four Zero!
Aussie blokes are typically an optimistic bunch and though 60% of us are overweight or obese, only about 30% of us realise and accept that we are holding a few too many kg's.
10kg mysteriously appears around the midsection and its easy to see why this happens, when like Mark, your life is all about work and raising your 3 young children.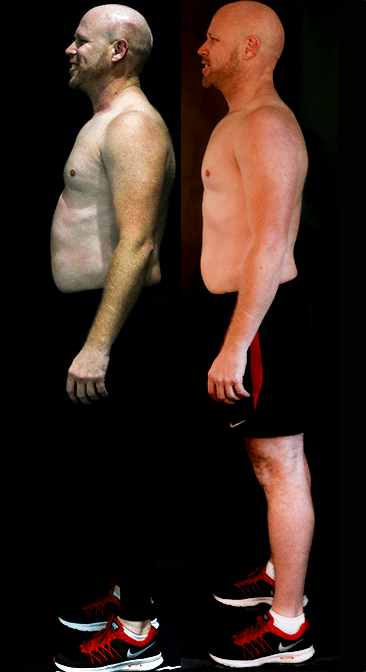 Selflessness is such a noble human characteristic but if you find yourself in a position where your health is being jeopardised, it might be time to take some serious action and do something for yourself!
[/et_pb_text][et_pb_text _builder_version="3.0.69″ background_size="initial" background_position="top_left" background_repeat="repeat" custom_margin_last_edited="off|desktop" custom_padding_last_edited="off|desktop" background_layout="light" text_orientation="left" border_style="solid" text_letter_spacing="1px"]
Want to strip 10kg but confused about where to begin?
Once you concede that you are not happy with your current self image, you have to spend some time working on the secret sauce to lasting weight loss … DESIRE! 
The truth is, self improvement is bloody tough and if you are serious about stripping 10kg of fat off your frame, you best begin by finding your desire for change! Grab a pen and paper, find a quiet place and begin documenting all of the outcomes that you truly want to achieve. When you are 10kg lighter, what will you be able to do, where will you enjoy going, what will you wear? How will these changes positively impact your quality of life?
Mark Connell stripped 8kg in 10 weeks because he found his burning desire!
Mark has 3 kids who adore him! Jackson 12 and twin 9 year olds Kaitlyn and Reece. Mark has spent over a decade of his adult life being an amazing Father and he admits that his own well being has been put on the back burner.
Before he knew it, Mark was 15kg overweight, unmotivated and pretty defeated!
An Amazing father whose highest value was to be a great role model for his kids, found himself struggling to find the energy to get through a days work! Something had to change and to his credit Mark did some serious thinking and discovered how counterintuitive his position was. His burning desire was to be the best father he could and he could not be that person feeling, fat, slow and unhappy!
Mark's quest began with the life changing 'Fight Like a Pro' crew. Guided by Gavin Topp and his team of super inspiring people he trained his ass off for 10 weeks and jumped in the ring as 'Hercules'. As Mark began to rediscover his mojo, he new it was time to take things to the next level and sort out his eating!
You can eat loads of delicious food and strip 8kg of fat!
Mark is the winner of  The Shake UP 10 Week Winter Challenge!
In 10 weeks Mark stripped 8kg and 12.5cm of fat of his waist! Recently we asked Mark,
'Why did this program work'? This was his response:
"This program worked for me because its a behavioral based approach that taught me how to eat! I have done all sorts of training programs and challenges in the past but nothing really worked. I knew it was time to address my eating and the 10 week challenge just gave me the structure, knowledge and support to make it happen".
A true Legend of a man and a father who continues to influence his kids through his actions!
Mark has scored himself a massive prize pack valued at over $1000.00! A huge thanks to the local businesses who continue to support this community – Punish Natural Nutrition for bringing us quality supplements, AMG Coaching the best business coach on the Gold Coast, Heyday Health Physiotherapy and No More Niggles for keep our guys mobile and in the game longer!